Introduction
Being the citizens of the country, we celebrate some basics provided by Her. As we do not face any difficulties that does not mean that none others face them. But the truth is that a huge difference lies between two halves of the population. This half is self made by the society. Maybe the difference is that we get access to certain extra facilities that them. But that should not give us any upper hand. Rather than distinguishing that portion of the population as different from us, we can try to help them out of the current situation they are in. Being the citizens we should try to carry out the basic duties that every motherland expects from their children.
Hostages of Poverty
Almost more than half of the population is under the hostage of poverty. They are helpless, in search of a hand that can support them out of the darkness. They are in need of proper shelter; they even are unable to even feed themselves for days.
In the present situation, due to the outbreak of corona virus, they are in even more difficulty. Always in the fear of acquiring the infection, they are still without food and shelter. Some of them are even without proper clothing. This portion of the society is distanced out. They are living with us, growing in front of our eyes, but somehow we deny their existence.
Helping "The Greater World"
We are always talking of the greater world. Are we doing anything to really improve their condition? Are we doing anything to make even a small change in their lives? Our small initiative can bring about huge impact in near future. Initiative can be taken in any form. It really does not matter how big or small it is. Every small initiative can accumulate to bring out a sea of changes.
Volunteering for a better India should be the life mantra for every citizens of India. Differentiation among the population is only human made. We all are human beings having similar dreams. We are the one who can fulfill our dreams very easily as we have the resources. But is it not partiality towards them who even being capable cannot achieve their dreams just because they lack the access of proper resources. Being the capable ones shouldn't we take steps to help them to fulfill their dreams? Just one step can change their lives completely. They are the needed one craving for our helps. We are the blessed one and we should share some part of it with them.
Volunteering for our own population will also bring about self satisfaction and a feeling of nationalism. Volunteering is just helping those out who need them. Contribute a part and get a chance to witness a huge change.
International Volunteer Day
HISTORY
International Volunteer Day for Economic and Social Development on 5 December, more commonly referred to as International Volunteer Day, is an international observance mandated by the UN General Assembly in 1985. It offers an opportunity for volunteer-involving organizations and individual volunteers to promote volunteerism encourage governments to support volunteer efforts and recognize volunteer contributions to the achievement of the Sustainable Development Goals (SDGs) at local, national and international levels. International Volunteer Day is celebrated by many non-governmental organizations, civil society, and the private sector, among others. It is also marked and supported by the United Nations Volunteers (UNV) programme. International Volunteer Day is a chance for individual volunteers, communities and organizations to promote their contributions to development at the local, national and international levels. By combining United Nations (UN) support with a grassroots mandate, International Volunteer Day is a unique opportunity for people and volunteer-involving organizations to work with government agencies, non-profit institutions, community groups, academia and the private sector.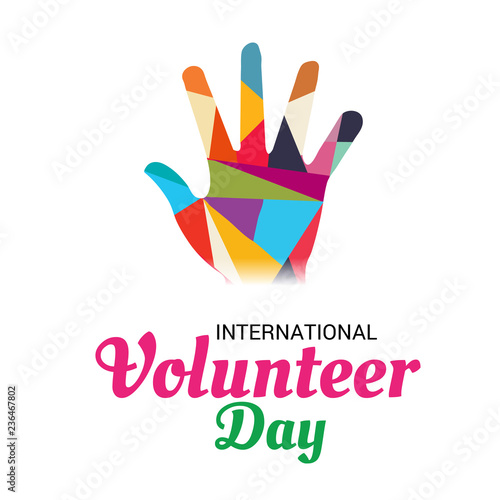 In December 1985, The United Nations General Assembly first approved and started the celebration of the International Volunteer Day every year on 5th December. This day celebration helps many volunteers to get mobilized and works in association with the partners and the government organisations to set a framework of the programme to promote and carry on the domestic volunteerism in all the nations. These volunteers use online volunteering services and prepare an action plan for continuous human development. It is seen that in all cultures, languages, and religions, the act of Volunteering has been found. To make the world a better place, several people come forward to volunteer their time and skills and help to improve the love of others. During volunteerism, they also gain a greater sense of belonging to their communities.
OBJECTIVES
Some of the main objectives of celebrating International Volunteer Day are as follows:
To demonstrate their volunteering experiences, best practices and prepare a plan to strengthen their capacities of work for promoting human development by their skills and knowledge sharing.
To instil and mobilize the general public internationally through the experiences of volunteers engaged in human development on the Internet.
To acknowledge the winning individual volunteer and their organizations to facilitate their nomination for the UNV online volunteering award.
To eradicate poverty, gain comprehensive primary education, promote gender equality, lessen the childbirth rate, improve the health of nurturing mothers, prevent the spreading of AIDS, malaria, and other diseases, and also ensure to make the environment healthy for living.
Conclusions
This Volunteer Day let's get our hands together on this matter. Let's volunteer for a better world. Like every Teacher's Day, we pay homage to the teachers similarly we can help the needy and pay homage to our humanity, to our country. In this Volunteer day let's join hands to volunteer for them.